VILLA
SCHELLENBURG
Expectations redefined
The architecture of Villa Schellenburg is one of a kind in Ljubljana. The 14 spacious units with 119 to 225 m² of living space and the 335 m² luxury penthouse are truly in a class of their own and impress with well-thought-out layouts, top-notch fixtures and fittings and exquisite materials. What makes the Villa so special is its southwestern side: here there are open, almost fully glazed loggias, which allow lots of natural light into the apartments and bring the unique view over the city right into the living spaces. Choose your dream luxury apartment in Villa Schellenburg.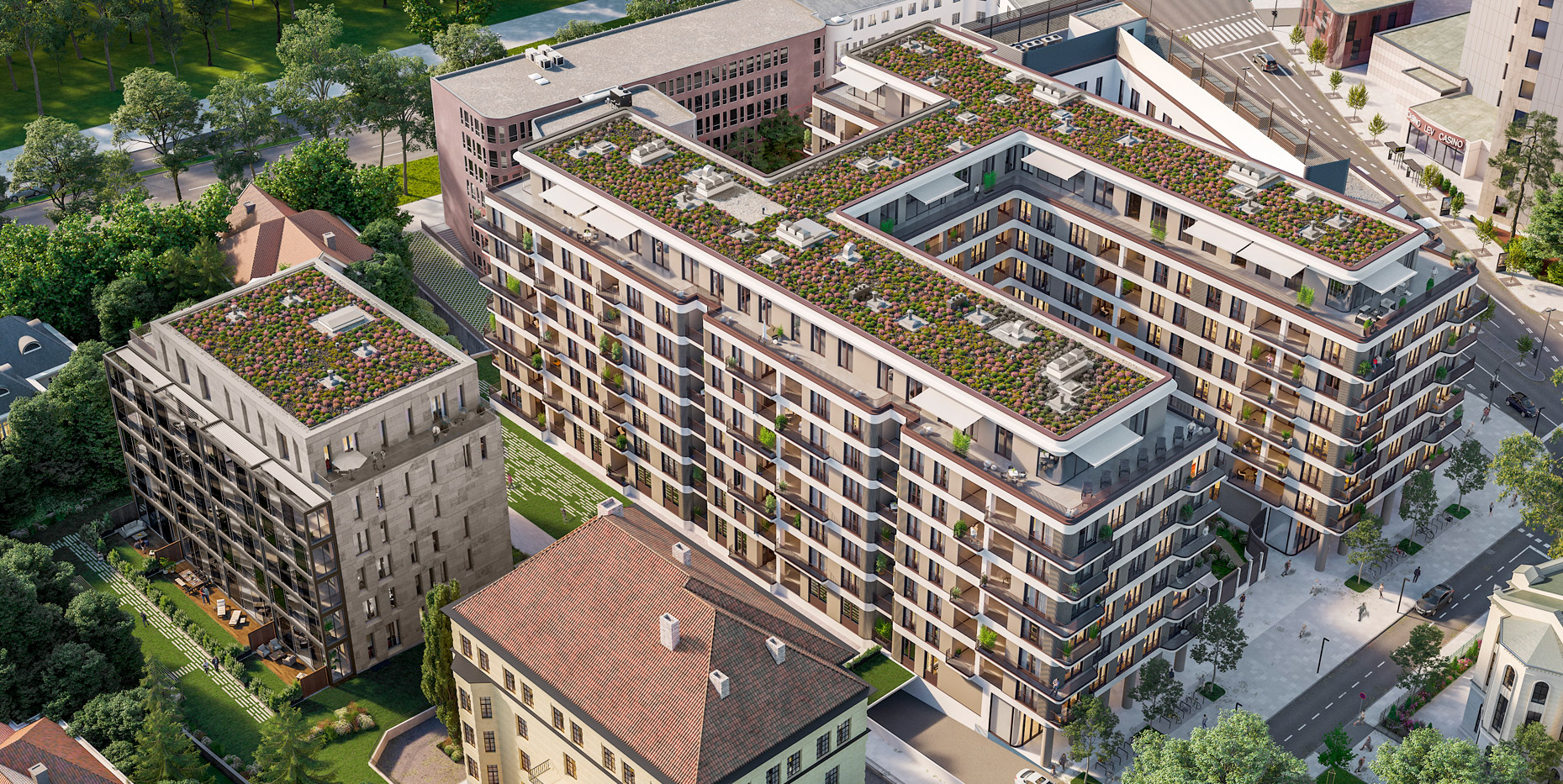 PALAIS
SCHELLENBURG
Made for a
sophisticated lifestyle
Palais Schellenburg is part of an ensemble of two buildings: the Palais and the Villa. On its eight floors, Palais Schellenburg offers a range of different apartment sizes, which gives their inhabitants the freedom they need to realise their ideas of a comfortable lifestyle. Among the 110 units are apartments featuring layouts to suit modern living standards and fully adaptable to individual life plans. With their sizes from 62 m² to a generous 345 m², they offer plenty of space for quality of life in any imaginable form. Choose your dream luxury apartment in Palais Schellenburg.

A DUET FOR
TWO SOLOISTS
Palais & Villa
Schellenburg
The Schellenburg Ensemble is a dialogue between two contrasting architectural styles. Whereas the architecture of the Palais incorporates the curved lines of the commercial property next door, the Villa has been designed as a stand-alone piece. The two contrasting buildings share the same high standards inside the apartments, combining uncompromising quality with expertise and craftsmanship. The result is 125 luxury apartments capable of redefining living culture in Ljubljana.

The Schellenburg project is named after Jakob von Schellenburg, the largest patron of the city of Ljubljana, financier of the provincial estates of Carniola, builder of the Ursuline Convent and Church. Thus, Jakob von Schellenburg made possible the foundation of the first girls' school in Ljubljana and the only school for girls in Carniola for more than 170 years.